We are professional website designers.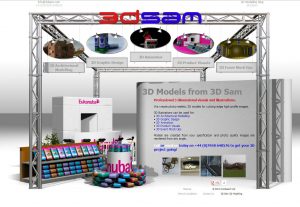 The secret to having a better site than your competitor, is by actually taking a look at their websites and creating something which:
has better graphics
is well written
gets higher rankings
conveys a clear message
We get to grips with your business and your market and design a site to suit.
The cost is not prohibitive – you aren't paying us to spend all day in the library reading up on your industry. We have done this many times before and pick it up in a flash.
We can take care of all aspects from domain registration to marketing.
Lost for words?
We can create the content for the site then you can cross the Ts and dot the Is.
Images
To make your website look the bees knees, top quality graphic design can change you from corner shop to high street.
We have an award-winning designer who can transform your image.
The photos and images used are generally self-generated or sourced from royalty and copyright free stock – keeping your costs to a minimum.
We do have a rich pedigree in 3D design which can be used to your advantage.
We can create a selection of logos for you to choose from, and we also have a stationery design service to help you create a consistent brand.
SEO
We create your site ready for Google natural listings, but there are no guarantees, despite what some people may say.
You need to set up tracking with something like Analytics so we can monitor progress, then each page would ideally concentrate on one keyword by featuring it in:
titles
alt tags
image names
page names
at least 5 times in the text
first and last words
meta tags
Then to finish the site off we create and register your Sitemap with Google.
Content Management
We can make sites that you can change yourself whenever you like. Our foundation of choice is WordPress, but if you have a preference, we can work it out.